Nurture fitness by loving your body and not by torturing your body. These online dance classes can be taken by anyone at home.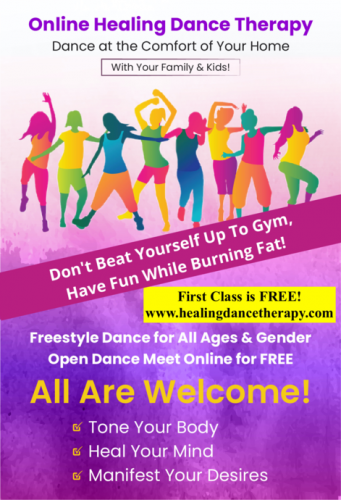 November 8, 2019 —
How about doing away with loads of fat while enjoying loads of fun, right at home with friends and family! Welcome to Healing Dance Therapy, the online dance training studio where your mind, body and the soul are healed every day, in the comfort of your home.
Gym workout burns fat, lots of it, but watch the faces of men and women pushing themselves to the extremes – they aren't really enjoying these torture sessions.
"Don't Beat Yourself Up To Gym. Have Fun While Burning Fat!" is the motto of Healing Dance Therapy, and carries its vision: nurture fitness by loving your body and not by torturing your body. Better still, the online dance classes can be taken by anyone at home.
At the physical fitness level, dance develops and maintains muscles and tone the body, while improving circulation and burning fat. With the physical balance comes healing through dancing out our prayers. Finally, there is manifestation, when the universe listens to the dancer's manifested desires in the form of play and fun.
"Dance with no rules and no judgments. If you enjoy your dance, your spirit loves it, and that is all there is to dance. It is the spirit you bring to the dance that is the source of your own healing," says Vishnupriya Aristo, Founder of Healing Dance Therapy and a professional dancer with over 20 years of experience.
While dancing, your state of mind attains the positive end of the emotional scale, with joy, happiness, love, excitement and a feeling of abundance. It keeps at bay the negative end of the emotional scale, where lie anger, fear, worry and depression. It ultimately helps you attract positive things into your life.
In simple terms, in a short session, you can dance your worries away, and fill yourself with happiness, love and joy. There are bonus benefits too! When practiced at home, it transforms and heals the energy of your home. Also, singing and dancing with family and kids binds our relationships together.
Classes by Healing Dance Therapy are held live with the instructor dancing along with you, three days a week in 30-minute sessions. Family members can be included at no extra cost.
Bring fitness, healing and manifestation in your life today: Sign up at: https://www.healingdancetherapy.com/. The first class is Free!
About
Vishnupriya Aristo is a professional dancer with more than 20 years of dancing experience. She has performed in various stages across the world and has been teaching dance online and in-person. When she became a Hypnotherapist, she came to understand the healing power of dance and created her own freestyle dance which can be performed by everyone regardless of age, gender and nationality. Further when she learnt the power of dance to manifest one's desires, she took the next leap and ditched the old paradigm, "No Pain, No Gain" and created a new one for herself, "More Fun, More Success." Rather than sticking to the strict set of rules found in most of the dance forms, her style of dance is freestyle with no rules and no judgments.
For more information, please visit: https://www.healingdancetherapy.com/
Facebook: https://fb.me/healingdancetherapy
Contact Info:
Name: Vishnupriya Aristo
Email: Send Email
Organization: Healing Dance Therapy
Website: https://www.healingdancetherapy.com/
Release ID: 88933158